General
The Plant Growth Center (PGC) is a state-of-the-art greenhouse center, which has 6 research greenhouses and 1 educational greenhouse. The PGC also houses 12 plant growth chambers located in the basement of the building. PGC operational questions can be addressed to Weimin Dang in the PGC (wdeng@lifesci.ucla.edu, 310-825-4687).
Request for greenhouse bench space can be addressed to Joel Latimer (jlatimer@lifesci.ucla.edu).
Entry to the PGC requires faculty authorization, and only persons growing plants in the greenhouses or chambers are authorized to enter. To obtain authorization, possession of a UCLA Bruin Card is required.
Greenhouses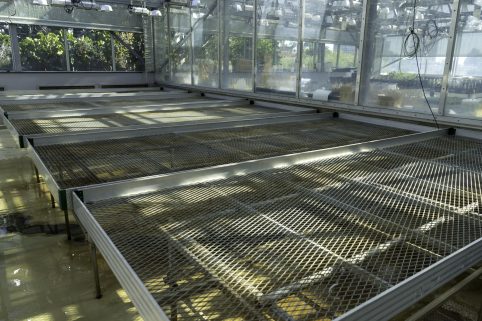 Each greenhouse contains 10 benches with a combined growing space of approximately 590 square feet.
Benches come in four sizes as followed:
12′ x 4′ 5″ (2 per room, 53 square feet each)
12′ x 4′ 11″ (3 per room, 59 square feet each)
13′ x 4′ 5″ (2 per room, 57.5 square feet each)
13′ x 4′ 11″ (3 per room, 63.9 square feet each)
Conviron Growth Chambers